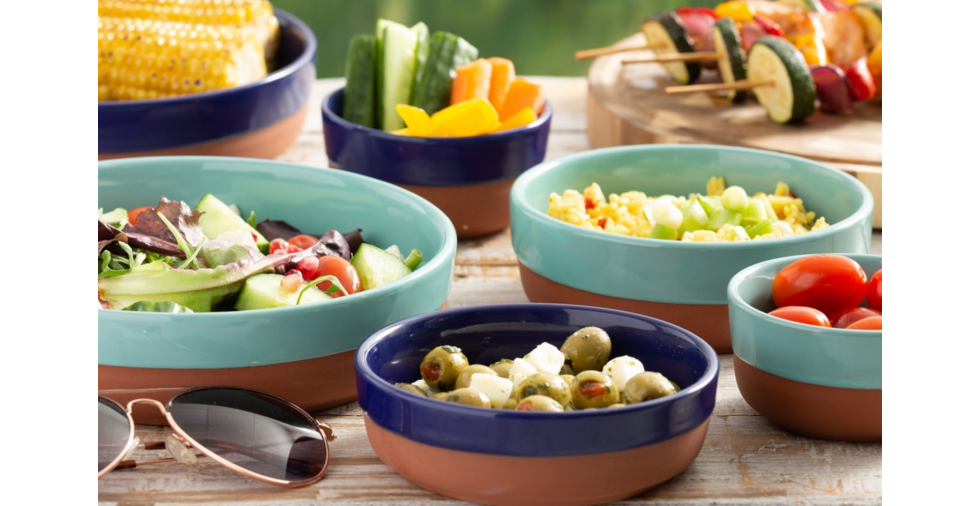 Introducing the new World Foods Collection just in time for summer!
The sun is finally out and that means its time to get the BBQ out of storage and enjoy your favourite summer foods with our new World Food additions!
From trendy serveware for the perfect insta-worthy picnic table to our brand new pizza stone, we have everything you need to serve up your summer in style.
Terracotta Dishes
---
The Typhoon World Foods Terracotta range is inspired by Mediterranean cuisines and is produced from natural terracotta, bringing a rustic Spanish charm to your dinner table. Each item has also been dip finished with a navy or aqua coloured glaze that will add colour and vibrancy to any meal.
The tapas dishes are available in a variety of sizes, perfect for cooking and serving an array of dishes, including meatballs, oven-baked Spanish tortillas, classic summer salads and more.
---
Pizza Plates
---
Whether you like your pizzas from Naples, New York or straight from the oven, the World Foods Pizza range has all you need to bake or serve your home made pizzas that is sure to impress at your next summer gathering.
The Napoli and New York Pizza Plates feature pizza box decorations so you can serve up your homemade creations in style. The Pizza Stone is oven safe and made from durable ceramic that can distribute heat quickly and evenly, giving the perfect crispy authentic pizza base.
---